Photographing your model diecast cars to sell on ebay.
Several years ago I became an eBay Powerseller and remained so for several years, a topic I will get into detail at a later post, but back then one of the reasons that contributed to my success was the way I took photos of the model cars. I sold exclusively Hot Wheels and Matchbox cars in 1:43, 1:72, 1:18 and 1:12 scale. Many other sellers were doing the same thing, so my challenge was how to stand out from the rest of the sellers listing the exact items? How will I get more bids and more importantly, higher bids! After studying the listings of others, I decided to capitalize on the way I would showcase my cars in a different light. After all, I as a collector myself, I had an edge over the rest, I knew what collectors where looking for, but more importantly I knew how to present it to them!



As a collector of diecast model cars, I always look at the weight. I place it on my hands and feel how heavy it is, the heavier the less plastic they used, a good thing in my opinion. Then I take a closer look, put it up close to my eyes and look at the detail. The paint job is important, looking for any production bumps that are not meant to be there or chips caused by the packaging. I look at the windows, the mirrors and if the hood and doors open, I look to see how much detail they included inside. I look at the tires, the rims, everything and anything. Then something wonderful happens, I start to feel as if its a real car!  I can even imagine it being driven down the street! Each collector is different, but all those that I have talked to say that they collect cars because they love to view and admire them and when they do, a sense of joy comes to them. This is something that many of those sellers on eBay don't understand. But I did!



Now for the difference, as most of you have seen on eBay, many sellers simply take a photo of the car in its original package like this: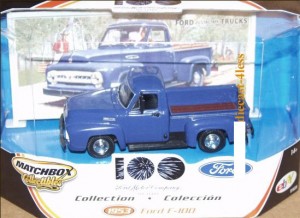 This is nice if you want to see the condition of the box, which I like to include in the listing as well. However, based on how a collector admires a model car, this is like viewing it through a foggy window, there is no way to appreciate the vehicle! What I did is remove it from the box (I normally had many models of the same type to sell) and photograph it. (The open model would usually stay in my personal collection) This would allow me to get a detailed image of the car that could be appreciated better. Here is a good example: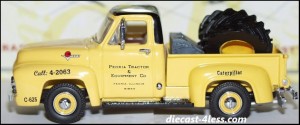 Click on images to see the larger sizes.
This Matchbox Collectibles Ford Pickup truck in the 1:43 scale, showcasing the Caterpillar name can only be appreciated by taking it out of the box. The two large tires are easily visible as well as the door handles, rims etc., and give the collector/bidder a chance to get an up close look at the features. Photos like these are one factor I got higher and more frequent bids on eBay. As to the technical aspects of photographing the cars/trucks? I'll tackle that monster on a later date.
UPDATE: For a more up to date look which camera and settings to use when photographing model cars, look at my How to photograph model cars article.